If you want to have houseplants but don't have a proper natural light source, then don't worry because most people go through the same problem. But I am here to guide you today on how you can still have houseplants in limited natural light.
There are multiple houseplants that will not only survive but they will thrive in low light. So, all you need to do is pick those plants, and that is pretty much it. You would have houseplants without having to worry about natural light.
So, let me walk you through all those houseplants that are tolerant to low and limited natural lights.
Lucky Bamboo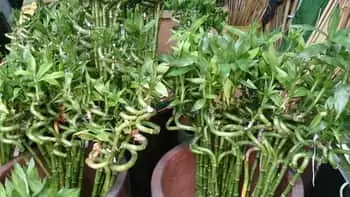 This Lucky Bamboo plant is one of the most aesthetic of them all with its thick stem and small leaves. You can easily use it as a decoration, and this plant is also considered a lucky charm. It does not take up a lot of space, so you can just put it on your office table or dining table as well.
This plant is great with limited natural light, and it can even thrive in shady places like corners of your room. Though it needs some light once in a while, it does not mind sitting on your office desk with low light. The lucky bamboo is also very low-maintenance, so it is considered a perfect office plant.
Chinese Evergreen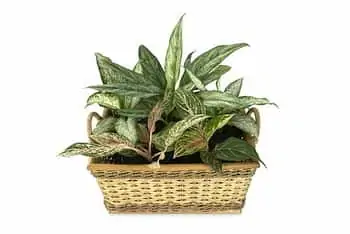 If you are looking for an aesthetically pleasing indoor plant for your minimalist setting, then this plant should be one of your priorities. It has really beautiful leaves with dark and light green patterns on them.
It is a very sturdy houseplant and does not easily die. Also, it grows perfectly in limited natural light, and it is almost as if low lights don't affect this houseplant at all. If you are a beginner and need a strong houseplant for your house that has limited light, then this houseplant is just the right pick for such conditions.
Heart-Leaf Philodendron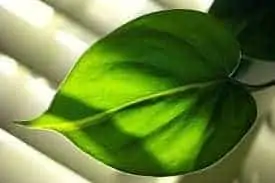 This philodendron plant is named so because of its foliage that has the shape of a heart. Also, the foliage of this plant has a very glossy finish. It is also called the sweetheart plant, and its growth is also pretty rapid.
This plant does pretty well in low natural light, but don't place it in a room with dim light because it won't survive in one such place. It needs low but constant sunlight so, place it somewhere it can get low and indirect light from the sun. This type of light makes it grow quickly, and you might have to trim the houseplant quite often because of its long stems.
Nerve Plant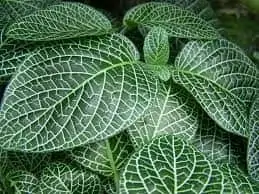 The nerve plant is a tiny little plant, perfect for your side table or your kitchen decorations because it can give your place a pop of color with its bright green tint. The foliage of this plant is also small, and it resembles succulents quite a lot.
This plant loves some bright and indirect light, but if you don't have access to brighter light, don't panic because it does pretty well in low lighting conditions. You just have to put the plant at a place where it can get low to medium but indirect light, and you will see how this houseplant thrives. Also, if they get constant low light, it might affect their color, but their growth won't be affected by it.
Red Aglaonema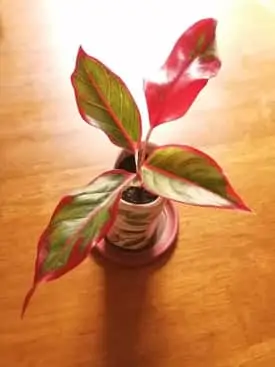 It is a comparatively small houseplant and is just the right pop of color that you need for your living room. The foliage of this plant has really cute red and green tones, which makes this plant stand out.
This plant is really low-maintenance and does not demand much from you when it comes to lighting conditions. This houseplant can grow perfectly in lower lights but make sure that the low light is not direct. Also, if you like the color of this plant to pop even more, then give it some bright light as well once in a while; otherwise, it does pretty well with the limited natural light as well.
ZZ Plant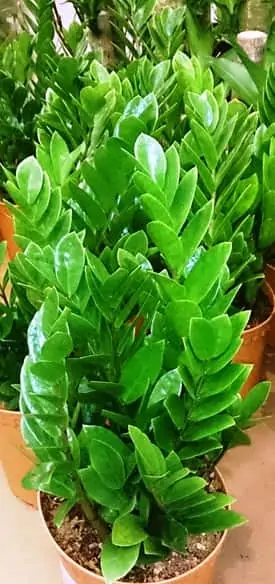 The ZZ plant has very glossy and thick foliage, which I personally adore because I am a sucker for glossy leaves. It is a low-maintenance houseplant with lush green leaves and a long stem that elevates the overall ambiance of your place.
This houseplant can survive and flourish in the lowest of light, and still, its stem and leaves would continue growing. It does not need constant watering as well, so you can just place them at a corner in your house and provide them water once in a while.
Silver Pothos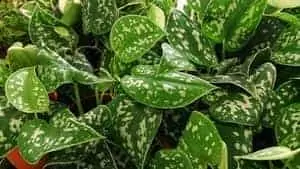 This plant is known for its silver and green patterns on the foliage. The leaves are heart-shaped and are pretty big. These houseplants are ideal for a minimalist house setting, and they add an aesthetic touch to the corners of your room.
The plant is known to grow pretty well in harsh and low light conditions, but its leaves might start turning green in limited natural light though the plant will still survive. Also, the growth is slower in low light. So, if you want to see the silver patterns on your houseplants, give them some bright light once in a while.
Spider Plant
This houseplant is one of the most low-maintenance houseplants you will ever come across. It grows really easily even in harsher conditions, and just look at how beautiful its colors are; I am just fond of this houseplant. The life of this houseplant is pretty long, so it is perfect for newbie gardeners.
Here is some more information on Spider Plants
These plants are really adaptive and flexible when it comes to lighting conditions because they can survive in limited natural light for longer periods, and you can even place them under artificial light, and they will still survive. At this point, I don't think anything could kill this sturdy and stubborn houseplant.
English Ivy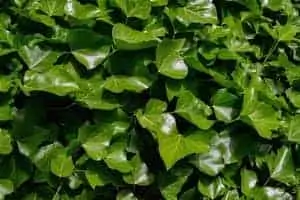 The English ivy is also a very easy houseplant to grow, and its foliage is beautiful and delicate. These plants go perfectly with hanging baskets because of their long and thin stems, and it is better to hang above the ground as they are toxic for your pets.
English ivy can survive in limited natural light pretty easily; just make sure that the light is indirect because direct light can burn their delicate leaves. Shady places are also good for these houseplants, and you can place them in partial or full shade for proper growth.
Anthurium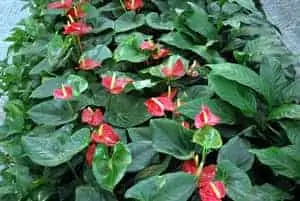 It is a tropical houseplant that has bold and vibrant flowers, which are enough to add a pop of color to your place. The foliage of this plant is also glossy green with large leaves and long stems that are perfect for an indoor setting.
When it comes to lightening conditions, this plant prefers partial shade. It can survive in lower lights and can even grow, but the growth would be slower. Just make sure to keep it away from the sun as it can burn its leaves.
Conclusion
Limited light is no longer a problem for your houseplants because I have listed some of the houseplants you need in your house if you have access to limited natural light.
Also, make sure to take care of all these houseplants and give them some bright and indirect light whenever possible because it can really improve their growth.
Recent Posts
link to Why Is Your Bamboo Growing So Slowly?
Have you found yourself wondering, 'why is my bamboo growing so slow?' Despite the fact that bamboo plants are remarkably fast-growing, it can sometimes take months (or even years!) to see any signs...
link to How Long Does Miracle-Gro Take To Work?
Miracle-Gro is a huge help when you are trying to get decent yields out of your plants or if you want them to thrive. However, you may have noticed that a single dose of fertilizer does little to...